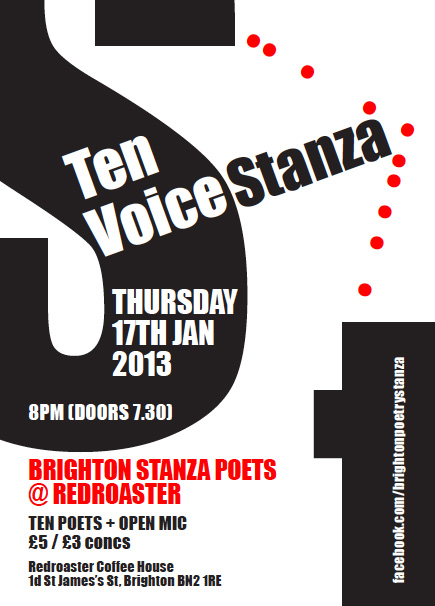 Poetry reading on January 17th
The workshopping group that I go to in Brighton is holding an event, Ten Voice Stanza, on Thursday 17th January. If you are anywhere in the vicinity, please come – and tell your friends! There are ten of us reading and we each have a maximum of 8 minutes, to allow some time for open mic.
There are Stanza groups all over the country – they are affiliated to the Poetry Society, and although group members are encouraged to become PS members, it's not obligatory. The Brighton Stanza was re-born about 3 years ago when Jo Grigg took it over, and in that time many members have established a pretty good track record of publication and success in competitions. So there will be a good variety and high standard of poetry at Ten Voice Stanza. BUT we're all relative unknowns, so we need members, friends and friends of friends to help spread the word. Please help – thanks!
Hope to see you there…