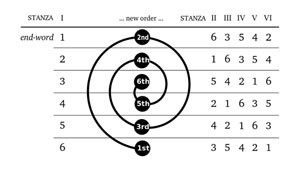 Sestinas – your opinion please!
So what do we think of sestinas? A fun exercise? A thankless exercise? A beautiful form best used sparingly? Hackneyed tell-tale sign of creative writing workshop-itis? Should have left it to Dante?
I expect I'm not alone in loving word puzzles so I'm tempted to attempt my first sestina. Yes! A sestina virgin! I confess I read Seamus Heaney's 'Two Lorries' and loved it, not realising it was a sestina (read it here and hear Heaney reading it). I'd like to play with this form, but want to know what you think of it. Have you written some fab sestinas? Would you rather not touch them with a barge pole? Care to point me to a lovely example/exponent? Any tips? Thanks!