I've only really started reading poems from memory this year, but rarely an entire set. I admire those poets who not only memorise long, often VERY long poems, but communicate them with panache and seeming ease.
But is reading from memory a requirement of a memorable reading? Does reading from memory always enhance the listener's experience? Just how much extra work are you setting yourself – and is it worth it? What if the poet's nervous enough already – isn't it better for them (and the audience) to stick with reading it off the page?
I asked two poet friends (and experienced poem-memorisers) to get their views on it, and also asked myself the same questions.
Tony Gill, aka Gilli Bloodaxe, has performed in clubs, a crypt, a barge and at festivals little and big. His first collection Fin was published this year by Matador. Peter Kenny is a poet, playwright and serial collaborator, having worked with musicians and writers in all kinds of genres. His pamphlet 'The Nightwork' was published in 2014 by Telltale Press.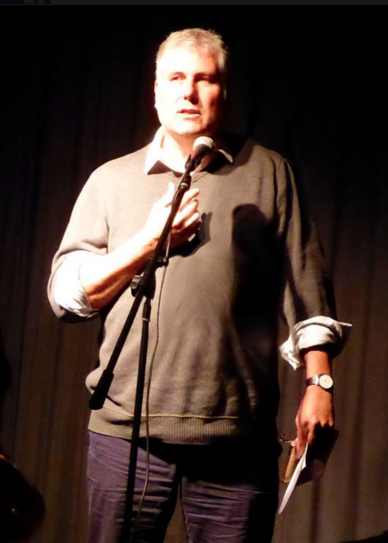 What makes you want to memorise poems – particular reasons?
Peter Kenny: I'm starting to memorise my poems and try to perform them from memory when I can. I write to communicate with people, and I think shuffling and hiding behind papers is obviously a barrier. It's nice to give the audience eye contact and focus on bringing the poems to life rather than simply reading from a page. I don't like readings where the poet seems to be talking to themselves.
Tony Gill: I think that when a poet (or anyone actually) stands and reads, there is a physical barrier (the book, a piece of paper) between them and their audience. The poet is saying "I'm reading this poem in this book". Without the book, it's a more natural communication, it frees you up to move around and wave your arms, you're telling a story like a Viking at the fireside…
Robin Houghton: Reciting from memory really feels like you're making a connection with the audience, but you do have to make eye contact. That business of 'focus on a point above people's heads' is the worst advice ever given, I think. People have told me they hear more of the poem and take in the words more intensely when they're being spoken to rather than read to.
Do you think it's something all poets should try to do, or does some poetry not really 'need' to be delivered from memory?
TG: Yes!
PK: Interestingly, the reading I found most electrifying was actually not from memory at all: I saw RS Thomas when I was a student and he read from the page without giving the titles of his poems or introductions, but was utterly brilliant.
RH: Some poems work much better from memory. But I think a poet can still deliver effectively off the book, as long as s/he adds value somehow to the audience experience. This could be (for example) looking up and making frequent eye contact with listeners, or it could be animating the poem in a way the audience wouldn't get just from reading it on the page.
How do you go about memorising poems – do you have a routine/schedule? How much time do you think it takes to learn a new poem?
PK: It takes me several days to learn a poem. I just stand in my kitchen and say the thing over and over for ten minutes for three or four days and I usually have it. Also when you are memorising something, if it is persistently unsayable, then something's usually wrong with it.
TG: Some are easier than others – if there's a structure, or if they rhyme. Once I've learnt it, I see if I can recite it over music, which is quite distracting. The amount of time depends on the length of the poem. But generally not that long.
RH: So far I've only memorised reasonably short poems. If the poem's in stanzas then that helps: I do it one stanza at a time. (If it's not then I might temporarily reorganise it so that it is!) Lots of repetition out loud (it helps if there's no-one around). Remembering the links between each stanza is important – the last word/phrase of one and the first word/phrase of the next. Because once you start the stanza you're off and running.
I try to 'see' the overall shape – the start, the build-up, the aside, the climax etc. It can take me a while, and several actual readings, until I'm secure.
Any top tips for a poet who's never managed to read a poem from memory – how might they go about it?
TG: Just do it!
PK: My stepdaughter is an actress and she reminded me to have a few physical movements or body positions for different bits of the poem. Using your body as well as your brain to prompt the next bit seems to work quite well for me.
RH: The only other thing I would say is to practise, and in front of an audience. Practise at the low key/low risk readings where you have enough adrenaline to make it real, but no big deal if you stumble because you're among friends. It will build your confidence for the bigger readings. I always remember the saying "an amateur practises until they get it right, a professional practises until they can't get it wrong". I still have a long way to go on that score!
Have you ever dried, and what's your advice if that happens?
PK: I have dried completely at least twice but I'm fairly philosophical about it. You're not in the middle of a play and putting everyone else off. When you make a mistake you feel like there's a yawning chasm of time when you are giving the reading, but the audience might not even notice as much as you think.
RH: I had a near-miss once, but held it together, and quite recently I dried completely and had to reach for the book. I was annoyed at myself but you just have to laugh and not make a thing of it. The audience doesn't want to see you distressed.
TG: Only when I've had a drink, which I never ever do before a reading.