Not my own, no, but now that term has ended I've got a fair few books to catch up with.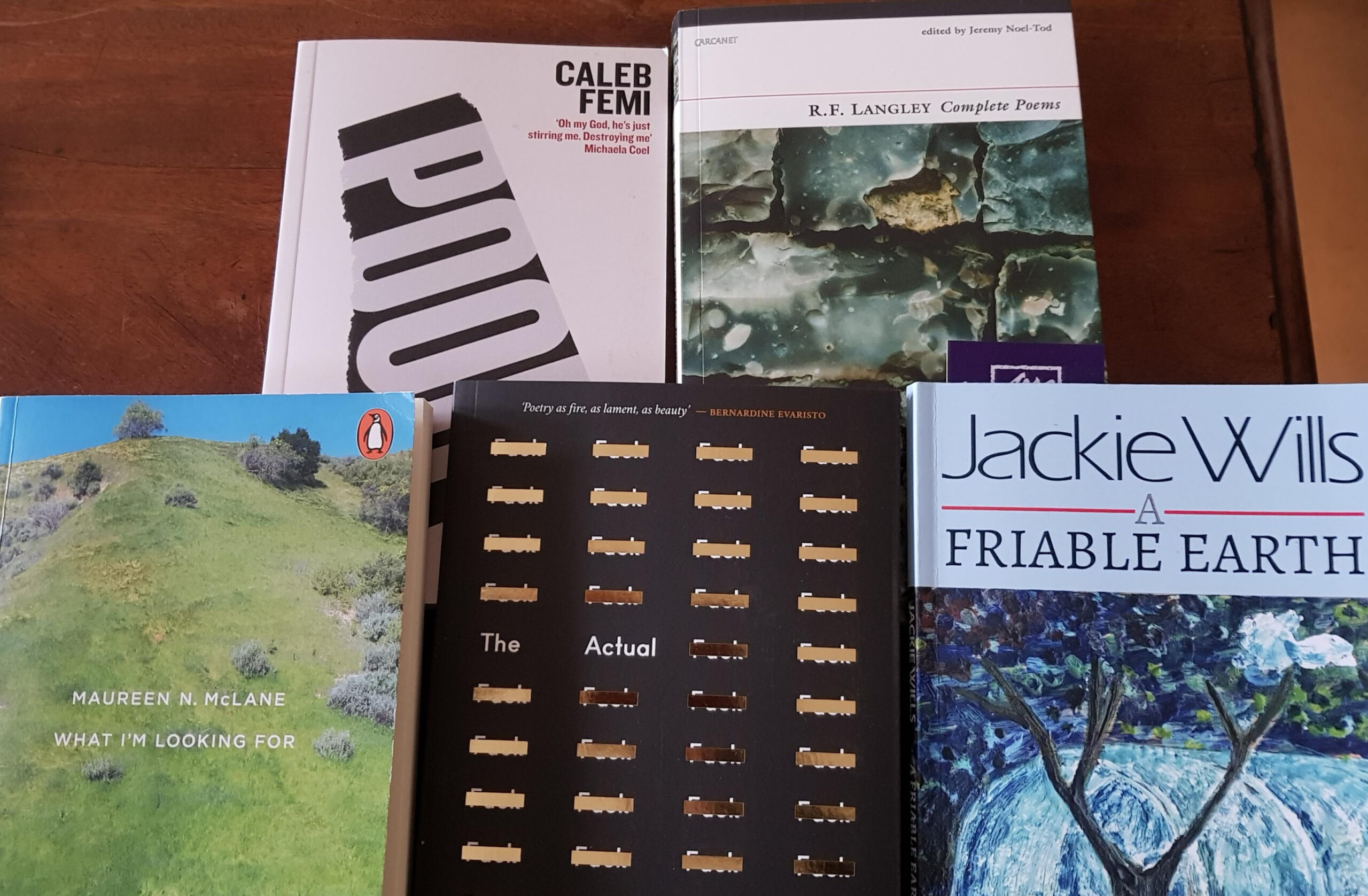 What I'm Looking For (Penguin, 2019) is a 'selected' by US poet Maureen McLane gathered from five collections 2005 – 2017. I first came across her work in a York Uni seminar, and enjoyed the sample poems enough to buy the book. Actually just a poem entitled 'OK Fern' is enough to make we want to buy the book. The power of titles!
Jackie Wills is a Brighton-based poet I've known for some time, and I've been to her creative writing workshops. I loved her collection Woman's Head as Jug and her newest book is A Friable Earth (Arc, 2019) – by the way, Arc have a sale on at the moment so now's a good time to browse their excellent list.
For some reason recently I picked up the Complete Poems of R F Langley (Carcanet, 2015) (which had been on my bookshelf for a while, but I'd not dipped into it) and found a trove of poetry I really connected with. I think I may have thought he was going to be hard work of the J H Prynne variety but that's not the case at all.
My Telltale pal and co-host of Planet Poetry Peter Kenny recommended I read Poor (Penguin, 2020) by Caleb Femi, which arrived on my mat yesterday, and I couldn't resist a little flick through (there are photos!) The blurbs are mighty impressive, the book is hot off the press (published last month) and I can't wait to read it.
And in case that's not enough, I also couldn't resist Inua Ellams The Actual (Penned in the Margins, 2020) I heard Inua read at The Troubadour in London a couple of years ago I think, and I've also enjoyed reading some of the poems from The Actual in The Poetry Review and elsewhere this year.  It's got a brilliantly witty cover with spot gold foil detail. And you can always judge a book by its cover as we know 🙂
So, swimming in lovely poetry. I'm also swimming in the pool again after the enforced month off and that feels fantastic too.
**********************************
PS
A huge thank you to everyone who's listening to Planet Poetry – Peter and I are enjoying making the podcast episodes and trying to get better at it. We've had some lovely guests and more are in the pipeline. Yesterday's episode featured an interview with the very talented Tess Jolly about her first collection, Breakfast at the Origami Cafe, and editor of Neon magazine Krishan Coupland. You can subscribe to Planet Poetry wherever you get your podcasts.