I admit it – I'm very nosy about other people's workspaces. Writers and artists especially. So I loved Josephine Corcoran's recent post about her 'cluttered desk' – although I thought it looked pretty good actually.
My first instinct was of course to compare it to mine, so I reached for the camera – but before tidying up. Monday is usually my day for clearing the desk and starting afresh, so this is the gritty reality of the pre-clean-up. Josphine's desk seems to be in a lovely light, airy place, whereas mine is a darkish corner where I'm flanked by bookshelves, a chest of drawers, a tall filing cabinet and a printer. But it's cosy though, and nobody can come up behind me 🙂
There are actually two desks. The main one with the nice big screen and the standing desk with the laptop. Here goes – with Josephine's post still open on my screen which shows how I leapt up to take a photo!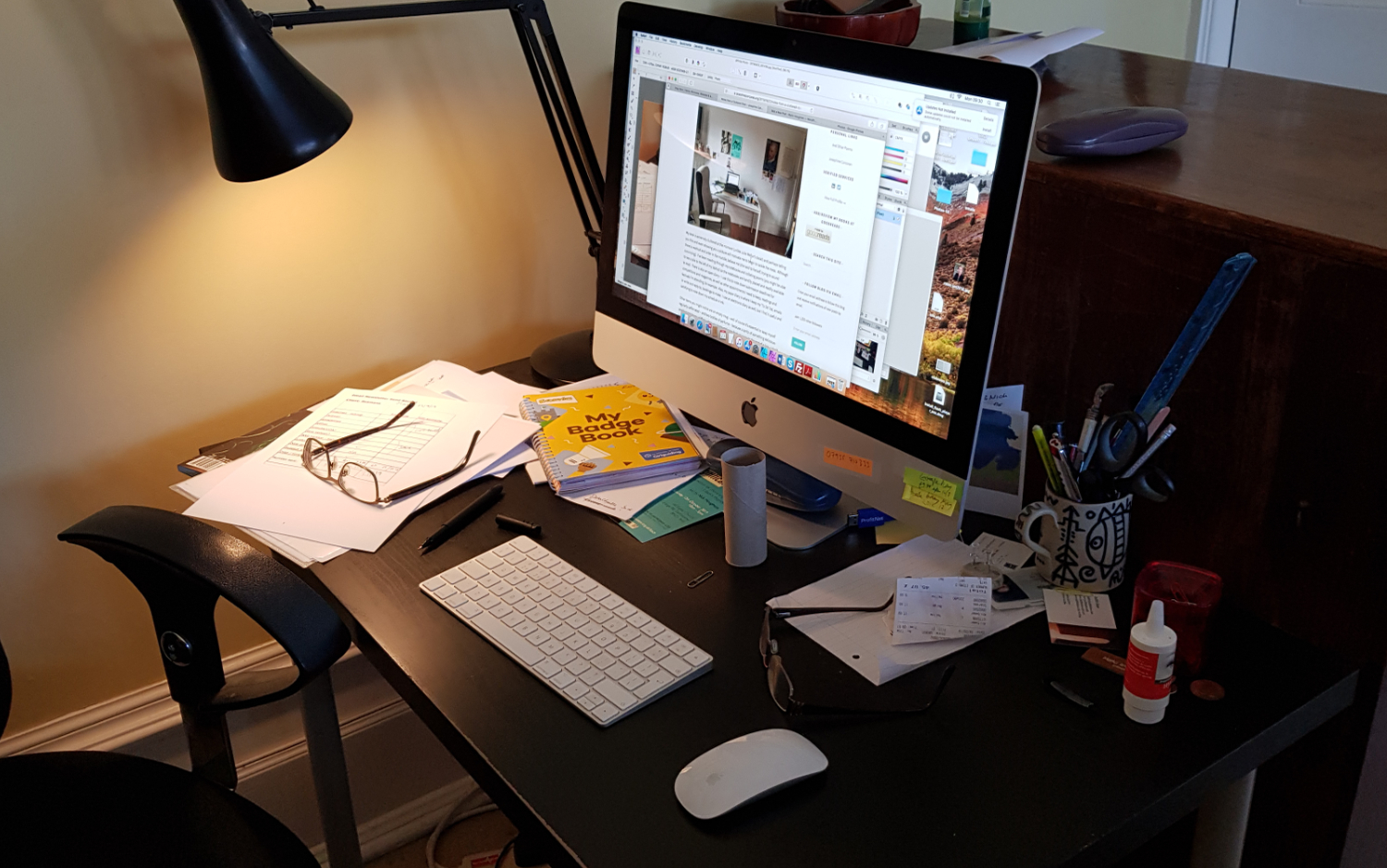 You may be wondering about some of the items here… the Brownie Badge Book (I'm a volunteer Bownie helper, so just doing a bit of record-keeping for the Unit) and the empty toilet roll (I'm learning knots at the moment and one of them calls for a tube … don't ask!) And two pairs of glasses may seem greedy but hey. Believe it or not there is some legitimate work stuff in that pile of papers. I've always had a big screen desktop comp as I used to do a lot of graphics and website stuff. Although I do less of that now, I like writing at the big screen and seeing words unfold there. I don't do any writing longhand.
As it happens, the standing desk is currently my poetry desk, and I'd like to say it's tidier, but…
Somewhere in there is a renewal notice from the PBS, a copy of The Author, poetry collections by Stephen Sexton and Jericho Brown, a copy of Dante's Inferno which I'm reading in English and Italian (a good way of stretching my vocabulary!) a couple of notebooks and a copy of '101 Things to Do in a Shed' which is brilliant and altogether 101% distracting. All that's missing is a half-drunk can of Diet Coke (it was too early in the morning) and Bobby, the black cat who likes to block the screen and nudge my mouse hand when I'm trying to type (like now!) In fact I think it's time for a little yoga (Bobby likes to join in, and he does a fine Downward Dog).
So thanks Josephine for the idea. I'd love to see some more of these 'my workspace' posts. Like I said, I'm a tad nosy!