Well hello! I am feeling epic. Not because I've suddenly won some dough or got a call from Faber. No!
Health update (feel free to skip!)
You may recall my moaning on about my bad back or whatever. It seems to be something else entirely that's been sapping me of energy and slowly seizing up my joints to the point of what felt like Permanent Old Ladydom, the mystery has I think been solved. It looks like I have a condition with the important-sounding name of Polymyalgia Rheumatica, which nobody is supposed to get before they hit at least 70 apparently. So for various reasons I don't fit the profile, except that my brother has also had it, and if he hadn't said 'your symptoms sound just like mine', I would never have been diagnosed. So THANK YOU that bro of mine. The key facts for me to take in are 1) no-one knows what causes it (funny how that's often the case when it's a condition mostly affecting women) 2) there is no cure  and 3) one can only wait for it to go into remission, which takes at least 2 years.
But the good news is that there's a drug that suppresses the symptoms, and for once in my life I have given in Big Time to Big Pharma. Within hours of taking the magic pills I felt about 20 years younger. I am honestly not exaggerating. I am Lazarus. I can function again, and it feels like I've got a second chance at life – more so even than after having cancer. So here I am taking a long-term, systemic drug after always saying I never would. I accept there may be side effects but I will manage them. I'm sleeping right through the night. I'm starting to write again. It's even kicked me and Nick into a new resolve to eat low-carb and take better care of ourselves. So all good.
Quick submissions summary
Poems currently out, to magazines: 11, competitions: just the Bridport (ha) and two pamphlets. One of the pamphlets was 'long listed' by Live Canon.
Three more poems rejected by Shearsman, two pamphlets sunk without trace in competitions.
Three poems accepted by Morphrog, one 'highly commended' in the Ver Poets comp.
Recent readings
No full readings lately but I did go to the launch of Magma 74 last week and read my 'hospitality management' poem. It was a really good night – great to hear many of the poems read, and a chance to catch up with several poet friends including Jayne Stanton, Alison Brackenbury and Hilaire (who read very calmly from London Undercurrents at only five minutes' notice!), say hello to others who I know either slightly or met for the first time, such as Maura Dooley, Carole Bromley and Stuart Charlesworth, as well as editors Pauline Sewards and Benedict Newbery (a fellow Live Canon longlistee). The venue in Exmouth Market was fun – with a very high but tiny stage. Here are a few pics, not sure who took the medley of pics that appeared on Twitter:
Here are Benedict and Pauline doing the intros (a bit fuzzy, sorry):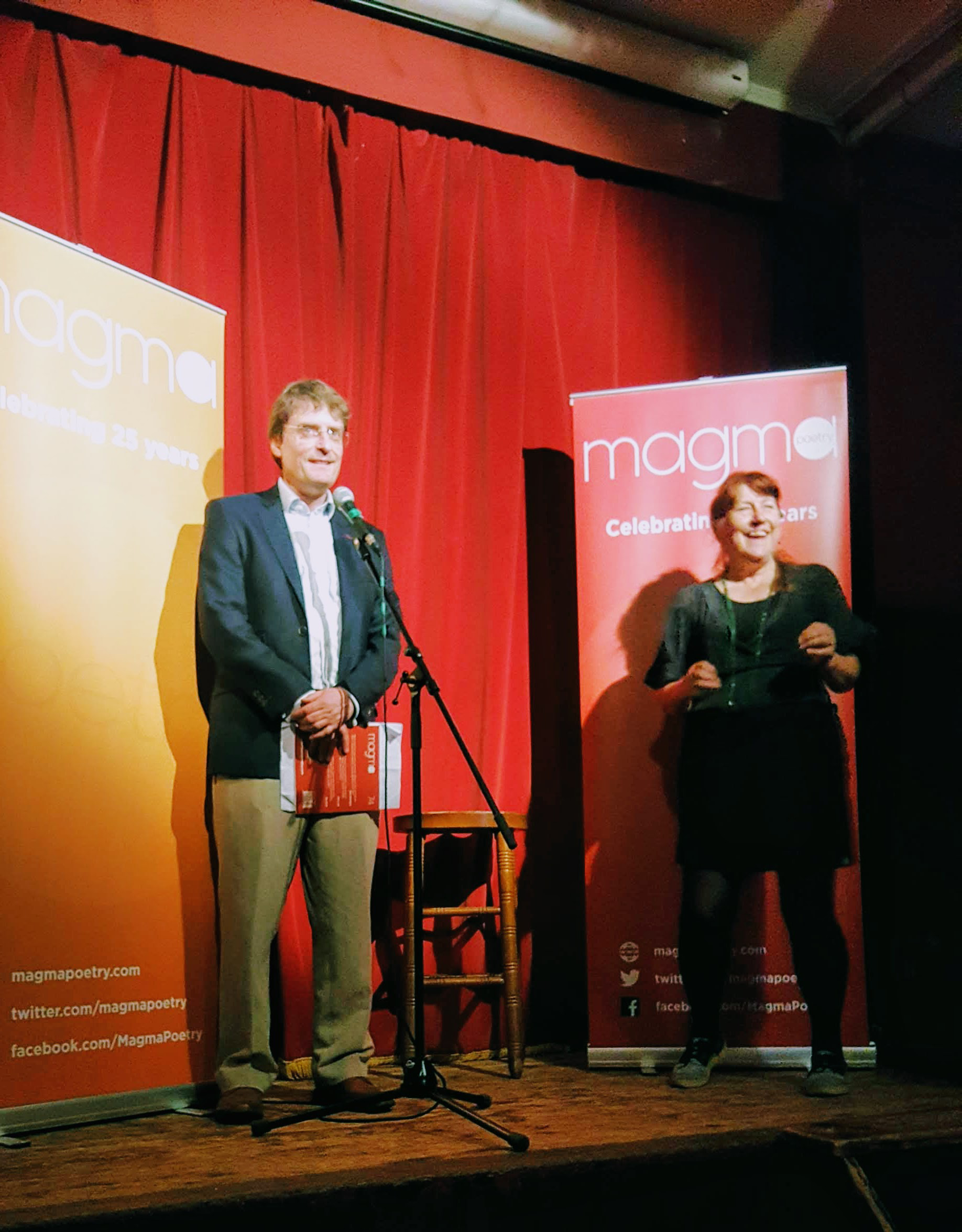 Two days later I took a wee trip to St Albans, just north of London outside the M25, and it was actually a very easy journey by train  as there was no need to change in London. I was a bit ashamed I'd never been there before, as I like visiting cathedrals and cathedral cities where there's often a lovely historic vibe.
I was there for the Ver Poets competition readings, so I got to read my HC poem 'Next best thing' and hear all the winning poems, some of which were read by the poets themselves. It was a lovely surprise to see Peter Raynard there, as I hadn't realised St Albans is actually his manor.
Adjudicator Kathryn Maris gave a really thoughtful and kind introduction. At the end, a cheque was presented to a lady from the OLLIE Foundation, a charity that provides funding for suicide prevention skills training for any individual or community that wants it. I wasn't aware that proceeds from the competition were given to charity in this way, and was impressed. Personally, I think if this was made more explicit in the promo material it may encourage even more entries.
I don't have any pics of the event but I'm looking forward to reading The Book of Jobs, Kathryn Maris's first full collection, a copy of which I picked up while I was there.
Oh and here are a couple of photos I took of the Abbey: